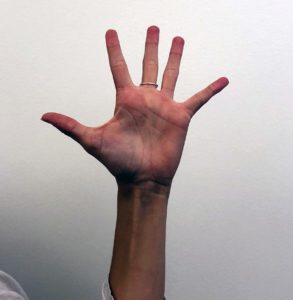 Even mild to moderate carpal tunnel syndrome (CTS) can have a big impact on your day-to-day life, but fortunately, you don't have to just sit idly by. In addition to consulting with a doctor, there are also a few exercises you can do on your own to relieve the chronic hand and wrist pain. Give these a try, but be sure to start slow, and if anything causes discomfort, don't push it. These shouldn't substitute for treatment from a doctor, but they can provide a much-needed short term solution to improve your comfort and function.
Shake It Off
Taylor Swift was onto something when she sang "Shake It Off." Simply shake your hands whenever you start to feel bothered by your symptoms. Don't shake too hard or too often, or this could actually make things worse! This should feel relaxing, not strenuous.
High Five?
Start by making a fist, and then slowly open your hand until your fingers are pointing toward the ceiling, almost like you're prompting a friend to give you a high five. It's perfectly fine to be left hanging this time around! Repeat about 5-10 times.
A-Ok
Touch the tip of each finger to the end of your thumb. It should look like you're making the OK sign when using your index finger. This can be repeated throughout the day, just be sure to not press your fingers into your thumb with any force.
Main Squeeze
Do you have a tennis ball or stress ball lying around? If not, grab a pair of balled-up socks. Gently squeeze, hold for 5 seconds, and then repeat 10 times. Do this 3 times a day max. Once again, don't be too enthusiastic when squeezing, you're not trying to get juice out of an orange or anything!
Bridge Stretches
Sitting at a table, rest your elbows and forearms on the surface so that your wrists hang over the edge, palms facing upward. Slowly, bend your wrist so that your fingers are pointing toward the ceiling, and hold for 5 seconds. Return to a straight, neutral position, and then bend so that your fingers are facing the floor. Hold for 5 seconds, then straighten your wrists again. Your hands should look similar to a bridge going up and down. Repeat this cycle 10 times up to 3 times a day.
These exercises can be tremendously helpful for providing temporary relief from hand and wrist pain, but you should still follow your doctor's instructions when it comes to treating CTS. The combination will help you both in the short and long term, and eventually, you shouldn't have to do them at all.
About the Author
Dr. Paul Tortland is an osteopathic physician with decades of experience and is considered a leader in the field of regenerative medicine. If you are currently dealing with carpal tunnel syndrome or any other kind of chronic hand/wrist pain, he can provide state-of-the-art treatments like PRP, prolotherapy, and stem cell therapy to help you heal and regain full function without the need of medication or surgery. To learn more about your options at Valley Sports Physicians & Orthopedic Medicine, give us a call today.