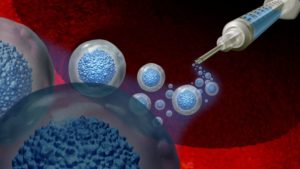 Stem cell therapy is a major buzzword nowadays. This form of regenerative medicine is highly effective. Still, you might wonder whom it is for. Is stem cell therapy right for you? This blog post explains what stem cell therapy is and touches on some of the types of people that it can usually help.
What Is Stem Cell Therapy?
Stem cells are cells within the human body that have the potential to turn into other types of cells. They also serve as messengers that coordinate cellular activity. During stem cell therapy, stem cells are placed at the location of damaged tissue. There, they are able to work with the body's natural healing processes and help patients achieve improved wellness.
The stem cells used in an orthopedic setting are usually harvested from a patient's own body — typically their fatty tissues or bone marrow. After the cells and their accompanying components are prepared, they are injected at the site of an injury with the help of ultrasound guidance. Patients usually notice significant improvements in their symptoms just weeks after their stem cell injections.
Whom Can Stem Cell Therapy Help?
Stem cell therapy is useful for many types of people. Here are three specific groups for whom it is usually beneficial:
Physically Active People
Whether you love to exercise or have a job that requires a lot of physical labor, the sad truth is that you will probably incur an injury at some point. Stem cells can help with issues like torn ligaments, labral tears, overuse injuries, and more. Some highly active people even choose to get stem cell therapy when they are not injured in order to prepare their body for recovery after it suffers damage.
People with Osteoarthritis
Osteoarthritis is a condition marked by deterioration of the cartilage between joints. Stem cell therapy can promote the restoration of lost cartilage so patients can gain enhanced mobility and reduced pain.
Individuals Recommended for Surgery
If you have been told that you should undergo surgery for your knee, shoulder, elbow, or other key joint, you might want to look into stem cell therapy before you commit to anything. In some cases, it has been known to promote healing to the point where surgery is no longer necessary.
Should You Get Stem Cell Therapy?
Whether or not you should undergo stem cell therapy depends on a few factors. Visit a qualified physician who can evaluate your case and recommend an appropriate treatment. Hopefully, you will soon be on your way to improved health and an improved quality of life!
Meet the Doctor
Dr. Paul Tortland of Valley Sports Physicians & Orthopedic Medicine is a leader in the field of regenerative medicine. At our affiliate practice, the New England Stem Cell Institute, he offers stem cell therapy in a welcoming and modern environment. To learn more about this treatment and whether it may be able to benefit you, contact our team at 860-430-9690.