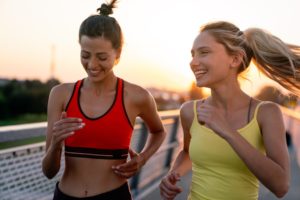 For patients who are coping with persistent musculoskeletal pain, conventional doctors often recommend medications and other common treatments. While such options are helpful for many people, they often fail to address the root cause of pain. Instead of encouraging healing, they simply hide the symptoms of an underlying problem. Osteopathic ozone therapy is different. Read on below to learn more about this remarkable treatment.
It Encourages Healing
Often, tissue degeneration and slow healing result from the underutilization of oxygen in the body. Ozone is a special molecule made up of three oxygen atoms. When it is strategically injected into the body, it binds with amino acids and lipids to form compounds called ozonides. Ozonides, in turn, increase oxygen utilization in the targeted area. This empowers the body to heal itself as efficiently as possible.
It Facilitates Pain Relief
Many patients find that, several weeks after an ozone therapy session, they experience much less musculoskeletal pain. This is a direct result of the body working to heal damaged tissues. People with a range of conditions, including lower back pain, plantar fasciitis, carpal tunnel syndrome, ligament injuries, osteoarthritis, and sports injuries, have benefited from the healing, pain-relieving power of ozone therapy.
It Is Safe
There are some misconceptions floating around about ozone. Some people label it as dangerous. While it is true that humans should not breathe ozone, it is actually quite safe for use in medical procedures. Ozone breaks down or binds with nearby tissues quite quickly, meaning there is virtually no risk that significant amounts of it will linger in your body. There has never been a recorded death or serious adverse outcome from ozone therapy when it is administered by injection, topically, or rectally.
Also, keep in mind that ozone therapy has been demonstrated to be safer than many conventional treatments for musculoskeletal conditions. For example, it comes with fewer risk than surgeries and a number of popular pain medications.
It Can Be Combined with Prolotherapy
By itself, ozone therapy is a remarkable treatment. It is even better when it is combined with prolotherapy. Prolotherapy involves the use of a mild irritant (usually dextrose) that is injected into a damaged joint, ligament, or tendon. It signals the body to send extra healing components to the area, thereby allowing a patient to experience pain relief and a healthier body.
When ozone therapy is combined with prolotherapy, the treatment is known as Prolozone. This simple process involves a few strategic injections. The prolotherapy injection is followed closely by an ozone injection. Together, these substances can work to optimize your body's natural capacity to heal itself.
Ozone therapy may not be a mainstream treatment, but that doesn't mean it isn't effective. It might be just what you need to improve your overall wellness and enjoy a healthier, pain-free body.
Meet the Practice
Dr. Paul Tortland is an experienced Doctor of Osteopathic Medicine. He is internationally recognized as a leader in Prolozone and other forms of regenerative treatments. If you are interested in learning how he and our team may be able to help you heal, contact us at 860-430-9690.