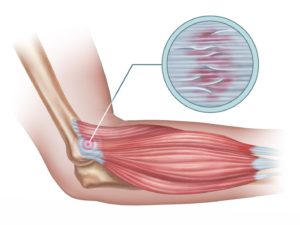 Do you suffer from persistent elbow pain? It is possible that you have lateral epicondylitis, which is commonly referred to as tennis elbow. However, it isn't exclusively limited to tennis players. It can afflict anyone who overuses the muscles in their forearm. It is marked by in inflammation and small tears in the elbow joint's tendons. Conventional treatments for this condition include things like anti-inflammatory medications, corticosteroid injections, and surgery. But did you know there is another option? Many patients have found relief with the help of regenerative medicine. Read on below to learn more about treatment.
An Introduction to Platelet-Rich Plasma Therapy
A form of regenerative medicine often used to treat tennis elbow is known as platelet-rich plasma (PRP) therapy. PRP therapy involves taking a patient's own blood and processing it in order to remove the white and red cells. What is left is a concentrated form of plasma that is rich in platelets. Platelets contain special proteins, known as growth factors, that can facilitate the repair of damaged tissues. When the PRP is injected at the site of an injury, it can speed up healing and play a role in pain relief.
PRP Therapy for Tennis Elbow
If you and your doctor decide that PRP would be a suitable way to treat your condition, you can expect a fairly simple treatment process. Your blood will be taken in much the same manner as if you were getting a routine draw for testing. While you wait, the blood will be processed, and the PRP will be loaded into syringes.
Next, you will receive your injections, which will be guided by ultrasound technology so your medical team can target the damaged areas of your tendon. Most people need three injections during their first session.
Pain relief usually does not occur right away. Tendons typically do not get a lot of blood flow, which means they are a bit slow to heal. Most people notice an improvement in pain within 3 – 4 weeks of their first PRP session. Major improvements may occur after six weeks or so.
Advantages of PRP Therapy for Tennis Elbow
Some advantages of PRP therapy for tennis elbow include:
Since your own blood is used, having a bad reaction is virtually impossible.
PRP has been shown to be more effective than cortisone injections, the traditional treatment for tennis elbow. (In fact, some research indicates that cortisone treatment is worse than no treatment at all!)
It may help you to avoid surgery and other complex treatments.
No one should have to live with the persistent, nagging pain of tennis elbow. PRP might be solution you are looking for!
Meet the Practice
Under the leadership of Dr. Paul Tortland, Valley Sports Physicians and Orthopedic Medicine has been providing PRP therapy since 2007. In fact, we were the first practice in New England to offer it! If you are interested in learning more about this form of regenerative medicine, we would be pleased to answer your questions. Contact us at 860-430-9690.