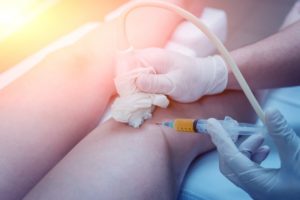 For decades, people struggling with osteoarthritis basically had two main treatment options—a lifelong reliance on medication (because it's a chronic condition) or invasive joint replacement surgery. While both of these approaches are effective in their own ways, needless to say, they each have significant drawbacks. Thankfully, the field of regenerative medicine now offers multiple viable alternatives, but many people don't exactly know how it works. And, there are a few misconceptions about it as well. Fortunately, this blog is about to separate fact from fiction. If you're interested in taking control of your OA with regenerative medicine, keep reading.
How Regenerative Medicine Does NOT Help OA
The most basic tenet of OA is that it is caused by a gradual loss of joint cartilage. This slowly degrades the joint's ability to function and can also cause pain because the surrounding tendons, ligaments, and muscles are placed under more pressure.
With a name like "regenerative medicine," treatments like stem cell therapy and PRP must be the perfect answer because they literally "regenerate" the cartilage, right? This is not the case.
Right now, there is no treatment available that has been shown to regrow lost joint cartilage. The only way to completely stop OA is to replace the joint surgically, which comes with its own list of potential risks.
How Regenerative Medicine DOES Help OA
Rather than addressing the loss of cartilage directly, regenerative medicine works by improving the health of the other tissues that make up the joint, namely the aforementioned muscles, tendons, and ligaments.
PRP, stem cell therapy, and prolotherapy/Prolozone have been shown to dramatically reduce inflammation and encourage accelerated healing in these tissues. For the patient, this means they experience less pain, enjoy more strength and stability, and function better day to day.
In addition to these obvious benefits, regenerative medicine can also reduce (or even eliminate) someone's reliance on medication. It can help someone completely avoid surgery as well.
Plus, because regenerative procedures are relatively fast and non-invasive (only requiring a few painless injections), a patient is able to get them without having to interrupt their daily life to recover or rehabilitate. Basically, they will be able to live their life while the previously problem joint continues to feel stronger and more comfortable (the effects of regenerative medicine tend to take a few weeks or months to fully manifest).
You Have Options
If you're currently dealing with OA and aren't happy with your treatment options, it may be time to explore regenerative medicine. All you need to do is schedule a consultation with a doctor who has experience providing the treatments outlined above, and from there, they can show you just how easy the road to recovery can be.
About the Author
Dr. Paul Tortland is a double board-certified physician (sports medicine and regenerative medicine) that has treated all levels of athletes for decades. At Valley Sports Physicians & Orthopedic Medicine, he offers the latest regenerative medicine therapies using industry-leading methods, many of which he helped pioneer and refine. To learn more about your options and how he can help you treat your OA, click here to schedule an appointment.