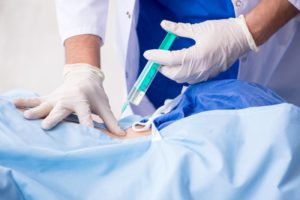 A quick search online is all you need to do to see that there is no shortage of advice for people experiencing back pain. From conservative methods like rest and heat to medication to more extreme measures like surgery, people have plenty of choices. But, among the most recommended solutions, 4 regenerative medicine treatments often get overlooked. Rather than reduce symptoms, they are designed to help the body heal itself and deal with the root cause of the pain, leading to lasting relief. What are they? How do they work? Keep reading to find out.
PRP (Platelet-Rich Plasma)
This treatment involves taking a small sample of a patient's blood and spinning it in a centrifuge to create a substance that contains a high amount of platelets and growth hormones. It can then be injected into an injured area of the body (including the back) where it will jumpstart the healing response and fuel accelerated recovery.
Prolotherapy
A solution made using dextrose (sugar) and Novocain is injected where it hurts, and this tricks the body into focusing its healing powers right where they are needed. How? The sugar slightly irritates the tissues around the injection site without damaging them, and this creates an acute inflammatory response that gets the body's attention. The Novocain ensures that the patient remains comfortable throughout the process.
Prolozone®
Prolozone® uses the same solution and method as Prolotherapy, except Vitamin B compounds and ozone (enriched oxygen) are added to it. These last two substances provide nutrition to the cells so they are able to "work" more and heal even faster.
Stem Cell Therapy
Using stem cells taken from a patient's bone marrow or body fat, they are injected into the back, and they act as "coordinators" for surrounding cells and guide them to create new, healthy tissue. The stem cells don't simply "turn into" different types of cells, but rather they are catalysts for concentrated and enhanced healing.
Each of these treatments have been proven successful when it comes to dealing with all types of back pain, and even better, they don't require downtime or cause disruptive side effects. To figure out which one might be best for you, simply talk to a doctor who offers them all—they'll be able to point you in the right direction.
About the Author
Dr. Paul Tortland is double board-certified in sports and regenerative medicine, and as such, he has used all of these treatments to take care of all levels of athletes for decades. Whether your back pain has just started or been around for years, he's ready to help you find the relief you deserve, and you can learn more about your options by scheduling an appointment at Valley Sports Physicians.