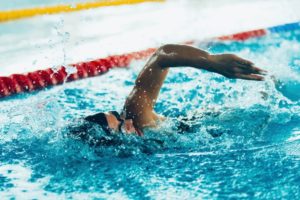 Staying active is one of the most important pillars of mental and physical health, but for many people, this is easier said than done due to their bad joints. Whether you experience knee pain, shoulder pain, or any other type of persistent joint issue, it's essential that you keep moving, but of course, you don't want to accidentally injure yourself in the process. That's why it's recommended that you choose one of the following 4 low-impact sports, which will certainly push your fitness, but they won't leave you hurting afterward.
Swimming
Swimming is the quintessential low-impact sport because the water literally removes the entire weight of the body from the joints. Simply swimming laps is great for both the muscles and the lungs and concentrating on different strokes can help target specific parts of the body. Plus, it's possible to lift weights in the water as well. Many people also find swimming very relaxing even though it can be quite strenuous.
Cycling
Many runners who encounter knee problems switch to cycling and find that it scratches the same itch. You still have the option to venture outdoors and put in as many miles as you want, all while protecting your knees. Cycling also makes it possible for people to traverse rougher terrain they normally wouldn't be able to run, allowing them to enjoy different locales. There are even long-distance bikes that are specifically designed to minimize the impact on the joints so the rider can enjoy a comfortable experience.
Yoga
Yoga offers an excellent way to strengthen the muscles around a joint without actually putting pressure on it. Sure, there are certain poses that may be uncomfortable for those with joint issues, but they can be easily modified. Over time, strengthening the area near a joint will help make the joint itself more stable and resilient. Ideally, you should do yoga with the assistance of an instructor that has prior knowledge of your situation.
Strength Training
Strength training, particularly with free weights, is also an excellent option for people with joint issues. Similar to yoga, it is both low impact and offers a way to stabilize the muscles near a joint. Certain compound movements, like a squat lift, should be avoided, but the majority of common exercises place minimal pressure on the joints. It's worth investing in at least one session with a personal trainer so they can help you put together a routine that allows you to achieve your fitness goals while also taking your joints into account.
Millions of people love and enjoy each of these sports, and if you haven't tried them, now is the time to start. It's OK if you don't like some, but there is bound to be one that catches your interest. The most important part is that these sports will allow you to think about your fitness, your health, or anything else, but the one thing you won't have to worry about is your joints!
About the Author
Dr. Paul Tortland, DO, is double-board certified in sports and regenerative medicine, and he has successfully treated athletes and non-athletes for various joint problems for years. He can help you get back to feeling and moving like yourself again using cutting-edge regenerative medicine techniques, plus he can help you stay active while avoiding invasive surgery. To learn more and schedule an appointment to discuss what he can do for your bad joints, click here.