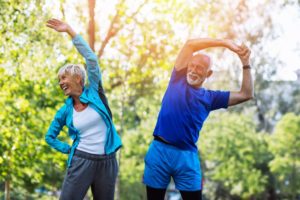 If you're living with arthritis, then you're likely very aware that the condition has both its good and bad days. Sometimes, your joints feel fine, but occasionally, symptoms flare, and accomplishing even the simplest task is difficult and painful. What causes these sudden spikes to occur, and better yet, what can you do to avoid them? To discover what might be causing your flare-ups and learn what you can do to prevent them, read on below.
What Exactly is an Arthritis Flare-Up?
Osteoarthritis is the most common form of the condition, and it is a degenerative disease, which means (without treatment) it will only tend to get worse over time. But, most patients describe their symptoms fluctuating wildly from day to day. A flare-up is defined as a sudden increase in pain, stiffness, and swelling in the affected joint. While they tend to seemingly come out of nowhere, there are a few factors that are known to cause them.
The Possible Causes of Arthritis Flare-Ups
Arthritis doesn't suddenly get worse on its own—something has to trigger a flare-up. In most cases, it stems from one of the following:
The affected joint has been excessively or repeatedly used.
The person has sustained an injury to the joint.
Daily stress is creating more inflammation throughout the body.
Certain foods (primarily starchy and sugary items) have triggered inflammation.
The person has changed up their medication.
A sudden drop in barometric pressure (this is why those with arthritis will feel sore right before the weather gets cold or wet).
How to Manage (and Avoid) an Arthritis Flare Up
Living with arthritis is already difficult enough without having to deal with the added stress of flare-ups. Fortunately, there are actions you can take in the moment and over time to improve your health and guarantee more "good days":
Short-Term Solutions:
If you can, rest the joint when it starts hurting more than usual
Apply a cold compress to reduce pain
Use heat to ease stiffness
Wear a brace if you have one
Take OTC anti-inflammatory medication
Long-Term Solutions:
Take prescribed medication as instructed
Maintain a healthy weight to reduce pressure on your joints
Exercise to strengthen the muscles that support the joint
Reduce or modify activities that tend to agitate the arthritis
Keep a journal of when you experience flare-ups and share it with your doctor
If flare-ups have become a normal part of your life, then you should definitely schedule an appointment with your doctor. They may be able to determine what is causing them or adjust your treatment in a way to reduce their occurrence. The last thing you should do is simply ignore them, as this may cause your arthritis to worsen much faster.
It's very possible to live a healthy and active life despite having arthritis, and if you're tired of "bad days" throwing off your plans, you can do something about it. By following the above tips and staying in close communication with your doctor, you can ensure that your future isn't defined by arthritis.
About the Author
Dr. Paul Tortland is a leading expert in the field of regenerative medicine, and he is dual board-certified in both sports and regenerative medicine. At Valley Sports Physicians, he offers several cutting-edge treatments designed to help patients manage and overcome their arthritis symptoms so they can enjoy pain-free days and avoid surgery. If you need help with flare-ups and want to avoid more in the future, click here to contact Dr. Tortland today.