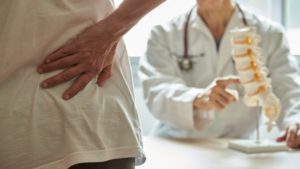 Tens of millions of people suffer from back pain every year, and the experience is always different from person to person. If your back pain is severe enough that you're considering going to the doctor, it's important that you're able to properly describe what you're feeling. This will help your doctor determine what may be triggering the problem, and more importantly, how you can get relief. There are several factors to consider when it comes to back pain, but you really only need to tell your doctor about 5 to give them (and you!) the best chance for success.
Time
When does your back pain occur? Do you feel it from the moment you wake up, does it develop throughout the day, or does it only pop up after work or performing a certain activity?
Duration
How long does your back hurt once the pain has started? Do you feel it all the time? Does it start in the morning but fade throughout the day? Does it disappear on its own after a few days? Or, is the pain only temporary, occurring for a brief moment before going away?
Intensity
Is your back pain a low, dull ache or an intense stabbing sensation? Are you usually able to ignore it and continue with your life, or does it force you to stop and take time off? One common way doctors ask about the severity of pain is with the 1-10 scale, with one being light soreness and 10 being extremely intense. The scale is relative, so don't worry about picking the "right" number.
Affected Area
Do you feel pain in your lower back, upper back, or somewhere in the middle? Is the sensation spread out over a large area, or is it concentrated in one sensitive spot? Has the pain spread from where it started?
Stiffness
When your back is hurting, are you less able to move? Do certain motions cause it to flare up? Has your back ever locked up or been "thrown out"?
Bonus Tip: Keep a Pain Journal
If don't want to have to remember the answers to all of these questions, try to keep a pain journal for about a week before your appointment. Note the time, intensity, and context for your back pain each day, and this will enable your doctor to notice trends that could paint a more detailed picture.
Even though your answers to these questions will be extremely helpful, don't stress about being "right" or "wrong." Your experience will be just part of your doctor's diagnosis, as they will also perform a physical exam and likely take X-rays. When all of these elements come together, it should be clear what is causing your problem, which is good news, because that means you and your doctor can start on the path toward a long-term solution.
About the Author
Dr. Paul Tortland is dual board-certified in sports and regenerative medicine, and over the years, he has literally treated thousands of patients with back pain. He can use diagnostic ultrasound to determine the root cause and then apply regenerative medicine that accelerates the natural healing process, which will help the pain go away and stay away, avoiding unnecessary surgery. To learn more about your options and take your first step toward recovery, click here to schedule a consultation.