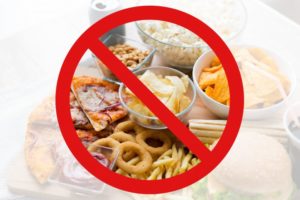 Most of the unpleasant symptoms associated with osteoarthritis, like stiffness and pain, have one main source—inflammation of the soft tissues due to excess friction within the joint. While no diet or supplement can cure arthritis, certain foods are proven to increase this inflammation, and avoiding them can go a long way in making it easier to manage the condition, helping someone be more comfortable (and mobile) day to day. If you have OA, be sure to skip the following foods, and your body will thank you for it!
1. Items with a Lot of Added Sugar
Frequently consuming foods with a lot of added sugar (like soda, cookies, cakes, juices, candy, etc.) is a one-two punch for those dealing with OA. Firstly, high amounts of sugar have been shown in research to increase inflammation throughout the body. Also, an unhealthy diet can lead to weight gain, placing even more strain on already compromised joints.
2. Salty Foods
Even the healthiest vegetable can become a "salt bomb" if a shaker is nearby. Too much salt causes your cells to retain water and swell up, creating an inflammatory reaction. Instead of reaching for the salt to add flavor, try other spices, such as garlic powder, lemon zest, or black pepper. Just be careful to not use a "spice blend," as the main ingredient in these tends to be (you guessed it) salt.
3. Fried Foods
Fries, doughnuts, chicken, fish, and any other food that has been fried in oil can cause a chemical reaction in the body that promotes inflammation.
4. White Flour
Things like bread, pasta, and cereals all contain white flour, which can send your body's inflammatory response into overdrive. Fortunately, whole grain varieties of these foods have been shown to be more "OA-friendly," though they should still be consumed in limited quantities.
So What CAN You Eat?
Grilled meats, vegetables, and drinks like water and tea are all healthy choices and have been shown to not make OA symptoms worse. Thankfully, just because you have OA doesn't mean you have to completely cut out your sugary and salty favorites. It's just wise to greatly restrict your consumption, which in turn, will make you feel better, and you'll likely lose weight as well, and this will help your joints even more!
Of course, an anti-inflammatory diet should only supplement professional OA treatment, not replace it entirely. You should still work with your doctor and take medication as directed, but with the right foods, you can address the condition from several angles, leading to healthier joints, better function, and an improved quality of life.
About the Author
Dr. Paul Tortland is board-certified in both sports medicine and regenerative medicine, and he's widely considered to be one of the world's foremost experts in the field of non-surgical orthopedics. At his practice, Valley Sports Physicians, he provides cutting-edge treatments such as stem cell therapy, PRP, prolotherapy, and more to help patients dramatically reduce the pain and stiffness associated with OA, allowing many to avoid the need for invasive surgery. To learn more about your treatment options and get more personalized diet tips, give us a call today to schedule an appointment.