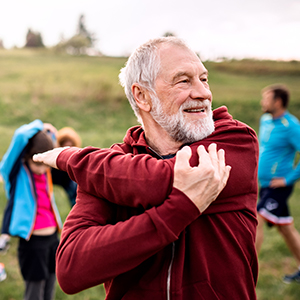 A new study published last month in the International Journal of Molecular Sciences showed that moderate physical activity (MPA) can delay the worsening of mild knee osteoarthritis (OA).
The study looked a 4 groups of rats. In the control group the biological markers of OA were all significantly increased over time. But in the MPA group the anti-inflammatory and chondroprotective biomarkers were elevated, and the inflammatory markers were reduced.

Physical inactivity represents the 4th leading cause of morbidity and mortality in the world. Regular exercise is highly beneficial for the management of many common chronic diseases, with substantial evidence for the benefits in cardiovascular diseases, diabetes, obesity, and musculoskeletal conditions, including knee OA.
The most important factors are:
Perform an activity that you ENJOY! If you hate doing something, then there's little motivation to stick with it.
Do it regularly, at least several times a week. Try to incorporate it as a regular part of your routine, and you'll be more likely to be consistent.